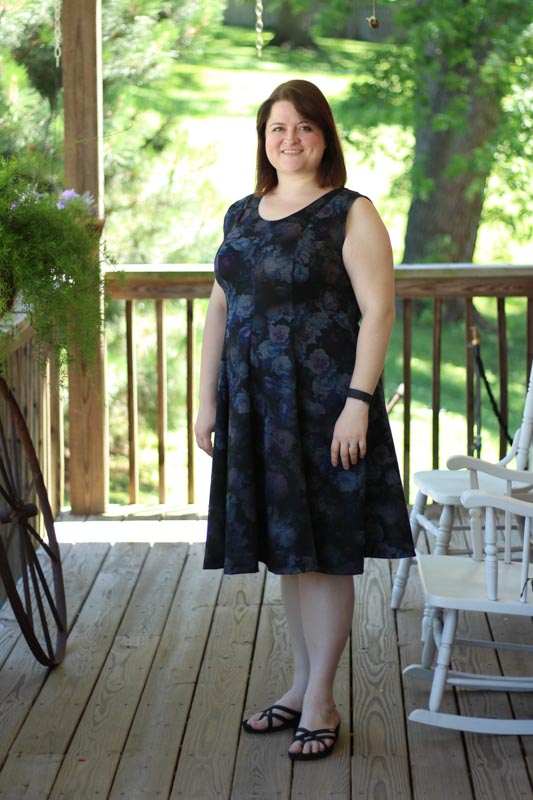 My sewing has been so inconsistent lately. My sewing energy was nonexistent for a while and I'm only lately having the energy and focus to even try sewing. When I saw the Gabrielle dress, I knew I had to have one! I searched for purple ponte and found a lovely rose print from Fabric.com.  I sometimes still feel like I'm only so-so on buying fabric online and loving it, but this one was a win! It's a great weight-heavy like ponte should be-and not too pricey.
After cutting it out, it sat for a while because my serger was down and out. Actually, it's been down and out for a while, but I didn't want to face the music and deal with it. This month, in addition to finally wanting to sew again, we had the extra money, so I took it in to the shop. It would have cost almost what I originally bought it for to have it fixed, so, instead, I traded it in for a new one! It's a Husqvarna Viking machine and I love it. It was quite a bit more pricey than my first one, but hopefully that means this one will have a longer life. (My old one was only 3 years old.)
Getting my new machine set up and running didn't take very long (I even re-threaded it, with no problems!). The dress was an easy sew. I'm not sure how long I actually spend on it, because I sewed a little bit at a time on this.  Sometimes I'd only sewing a couple seams before calling it a night. Even with my slow pace, it came together fairly quickly. Since I didn't force it, I felt good the entire time, no burn out. Feels good!!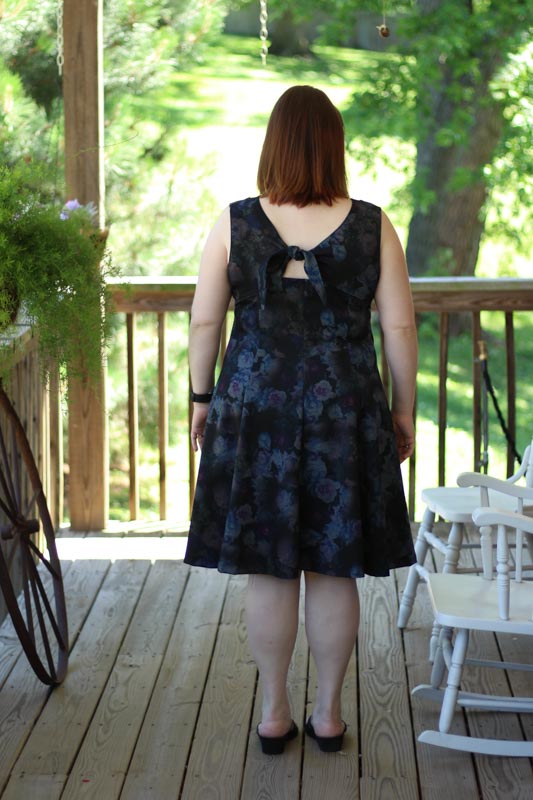 On a side note, I thought I'd be smart and buy less fabric than it called for, but then I ran out. Fortunately, I was able to squeeze it out by only lining the tie portion of the back tie piece instead of the whole thing. And I thought I was so smart.... oh well, live and learn and buy the right amount of fabric!
I cut out a XL (my measurements are 47.5"/41.5"/47") with approximately a 1" FBA. That makes it sound fancier than it was; I gave myself extra seam allowance at the bust and free-handed more width at the princess line bust point. Overall, it turned out a little large. I took out nearly an inch out of both sides seams and I still had to stitch down the top back tie piece to keep my bra from showing. I would definitely go down a size if I made it again, but keep the free-handed FBA.
Those familiar with the pattern may notice that this is a sleeveless version. I would like to pretend that was a thought-out and brilliant plan, but actually, I was tired and forgot them. Yep, I forgot to put in the sleeves. Instead, I hemmed the armholes. When I realized what I'd done, I figured I could go back and put them in if I want, but just wanted to be done. For now, I'm kind of liking it sleeveless.