Work has exploded in the last couple weeks, so I haven't been able to get into the sewing room, as sad as that makes me. So, to keep this blog from turning into a completely barren wasteland, I'm going to update about a dress I made back in December but haven't blogged.
The Pattern 4 Pirate's Wiggle dress is a figure hugging dress that is for those who aren't afraid to flaunt it! Normally, this style wouldn't be in my comfort zone, but made up in a black fabric, it's close enough to a LBD that I can feel moderately comfortable in it. I wore it to a date night to see a musical (Waitress - loved it!!) and I still felt like the most dressed up person there. It didn't help that it was pretty cold that day, so must people were choosing warmth over glam. Not me! Ha!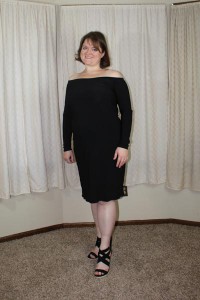 The instructions are pretty straight forward, but of course I managed to complicate it a bit. I didn't do any pre-cutting alterations, other than to give myself very large seam allowances around the bust. Then, I just tried it on and pinned it and sewed (and repeated like 5 times). I took a large chunk out of the back, kind of like a sway back adjustment, as well as some off the sides. Around the top of it, I took several inches (maybe 4?) out of the upper bust.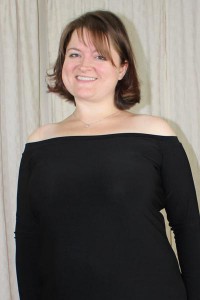 The only thing I really deviated on is the finished for the top. Instead of doing encased elastic, I finished it with a band. For some reason the thought of it just turned didn't seem as nice to me. Probably just me, but I wanted it, so I did it. To make the band, I measured the top once all the adjustments were done. Then, I multiplied that by .85 and used that length to make a band from. From there it was just like finishing any banded edge.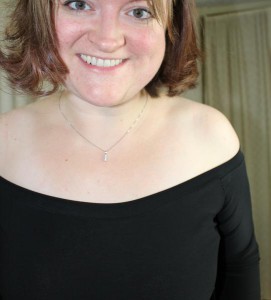 I cut it originally at calf length thinking I was going to add a circle hem, like a mermaid skirt. However, after trying it on, it was overwhelmingly black. I decided some leg was the way to go and chopped it off just above the knee. With high heels, this was perfect for a night out!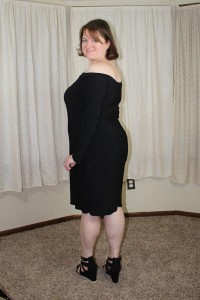 I have a couple other Wiggle Dress shirts (sounds funny to say it that way!) planned. However, if I don't get to them soon, it will be out of season and I don't know if I'll end up making them or not. If I do make it again, I'd like to more of the adjustments up front instead of pinning and sewing after cutting can be frustrating. In addition, I'm going to add more of a peplum/flare shape to the hem of the shirt.