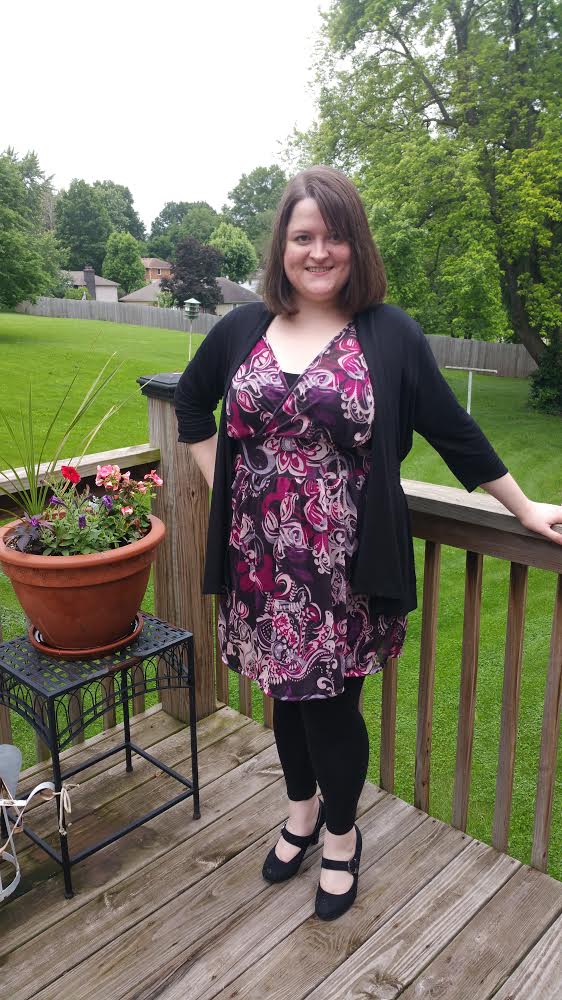 My first finished to post to the blog! I'm so excited that I have a successful project to post about.

This knit dress is McCall's M6073. It has a V neckline in both the front and the back and has three lengths: knee, midi, and maxi length. I wanted to use this fabric from my stash (it's a poly blend from... Fabric.com, maybe?) I only had 1.5 yd. and it was 45" width, so I eeked out as much length as I could, but couldn't even quite make it to the knee length. When I'm standing and there's no wind, it's not too short.

Also, the fabric is sheer, so I have to have something under it. Therefore, there will be leggins worn with this every time.
I wasn't sure about this pattern at first because it seemed very loose and I wasn't sure if I'd would like it. However, it actually did flatter very nicely. I think that's mostly due to the drape of the very lightweight knit and the help of the elastic in both the shoulders and waist.
I did have to do a few alterations for this. Although my fabric was knit, it didn't have a great amount of stretch. I did a size 22 in the bust, grading to 24 for the waist and hips, then I did a 2" FBA. The fit was great overall. The FBA did give me a lot of gathers; in the future I may do a smaller FBA or none at all and let the deep V of the wrap take in some of the difference.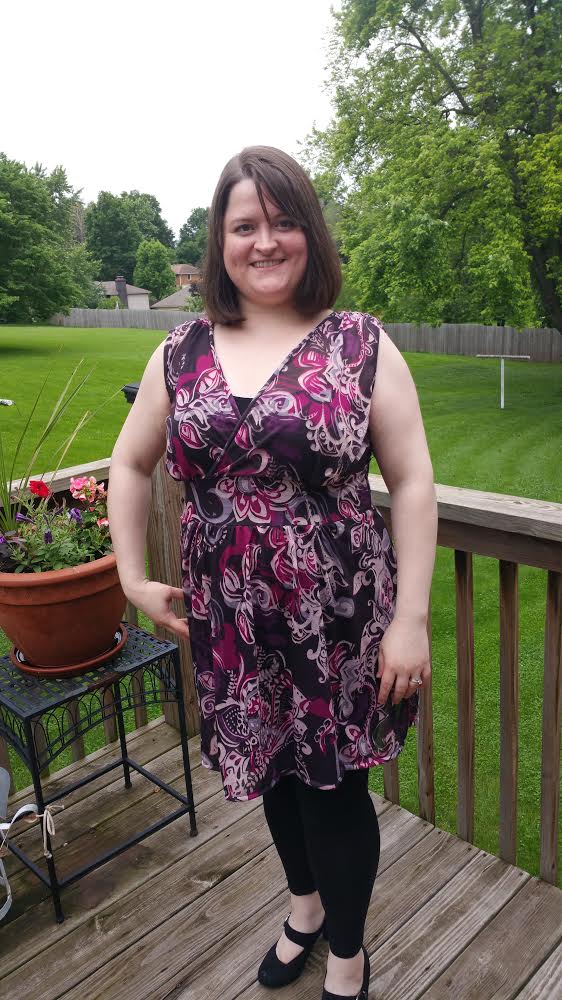 The photographer (aka: Mom) decided this was my "I'm a little teapot" pose. No one has ever asked me to model, can you believe that?! 😛
I struggled with the binding of the V neck because the pattern instructions made. no. sense. I was procrastinating utilizing last minute energy to finish this dress so I didn't want to take time to Google the "correct" way to do it. I found a way that worked and looks nice from the outside, but really kind of bad on the inside. I'm adding binding a V neck to my list of skills-to-learn.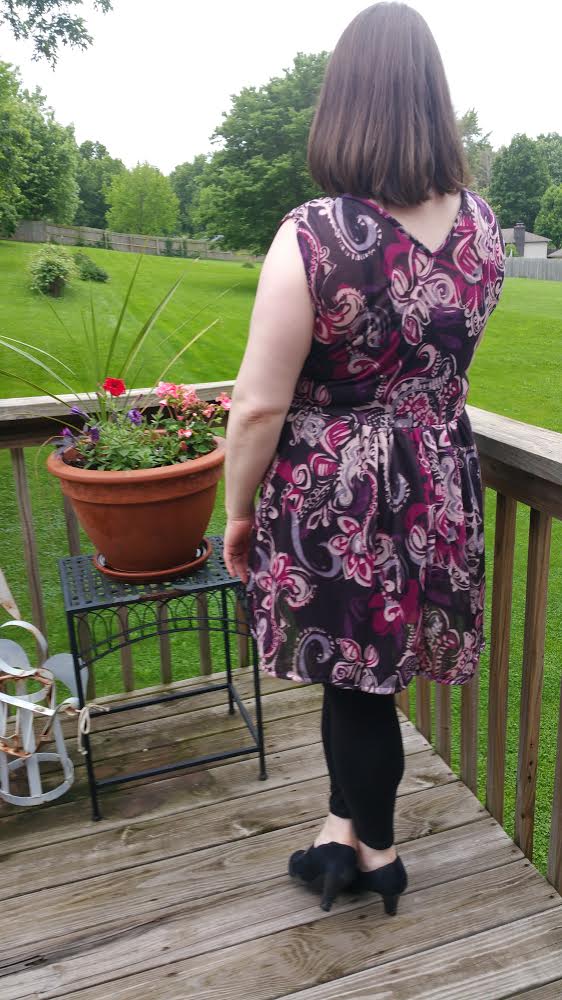 To update my skill building for this post, I thought I show how I did the bust gathers for this piece. Gathering is basic skill, but when done unevenly, it can definitely add to the "home made" vs. "hand made" look.
I used a technique that I like to think of as "window curtain gathering" (yes, I totally made that up, if you couldn't tell) that helps me get more exact start/end when gathering between two points. Basically, I use two threads, knotted at the end to baste the gathers. One thread starts at the left and the other starts from the right. That way, I can pull on the unknotted ends, now on opposite sides of the gathered section. By doing it this way, there's no ungathered sections near the edge of the gathered sections.