My plan for this year's sewing is revolving around idea I had called 3D Capsules. Many of us are familiar with capsule wardrobes. Essentially, you limit yourself to a handful of interchangeable options that you know will always go with each other. It's color coordinated and laid out to easily make outfits that match your style and coordinate with each other.
The limit of capsules wardrobes, however, is the number of items. Basically, it's too basic. There's not enough options. Even me, with my not-so-large wardrobe, I have more options to choose from than a basic capsule.
While it's a very cool concept, I don't want to spend time sewing something that's boring, or disappears into my other clothes and isn't worth the planning and sewing effort.
So, my solution? A 3D Capsule wardrobe. I was inspired by the Sudoku style capsule wardrobes where you have each box be an item and the items next to it build the wardrobe (for a more thorough explanation of this, read the CSC article, here).
A 3D Capsule is different than a standard one because the idea is that each box isn't a specific item, but instead a specific style of item. For example, instead of having a pair of jeans be in the box, the box represents the style of jeans, and I can have several different jeans that fit in the spot. Another box could be fitted woven tops. In that box, I could put several different shirts, all of them fitted woven tops that fit the color scheme.
I call it 3D because it's like it's file drawer and the drawer is labeled with what kind of item it is, but you can pull it out and find several different options behind it. Even with only a couple options in each style box, it would immensely increase the number of options that could be made by one capsule.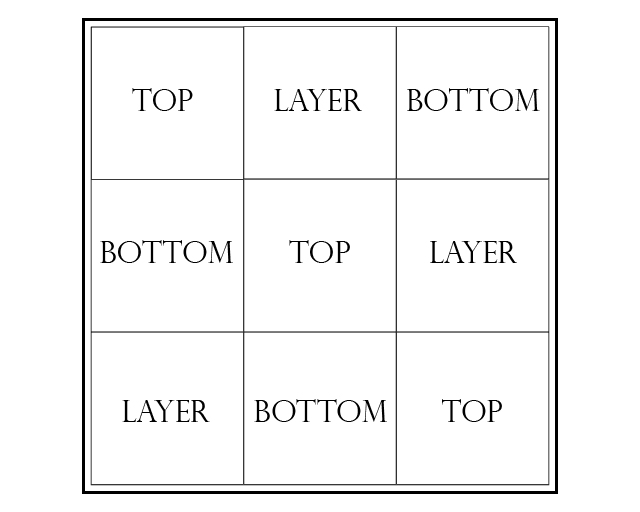 As I was thinking about what I reach for in the morning, I realized that I do have a "uniform" of sorts. Nothing formal, of course, I work in a pretty casual office, but  a uniform in the sense that I tend to most often wear items that are a similar style.
For example, my office allows jeans, so I wear jeans every day. Then, I grab a top that is either a nicely fitting knit shirt (nothing baggy here!), or a slightly more fitted, but still comfortable top. I don't wear boxy things, or loose things. I very rarely wear skirts, and never dresses.
Since intention in my sewing and wardrobe is a focus for me this year, I wanted to start planning my sewing to include only items that fit my style and went together. Combining these ideas, I created my 3D Capsule idea.
Below is my Every Day plan. It's what I am  already most comfortable in and what I wear the most, style-wise.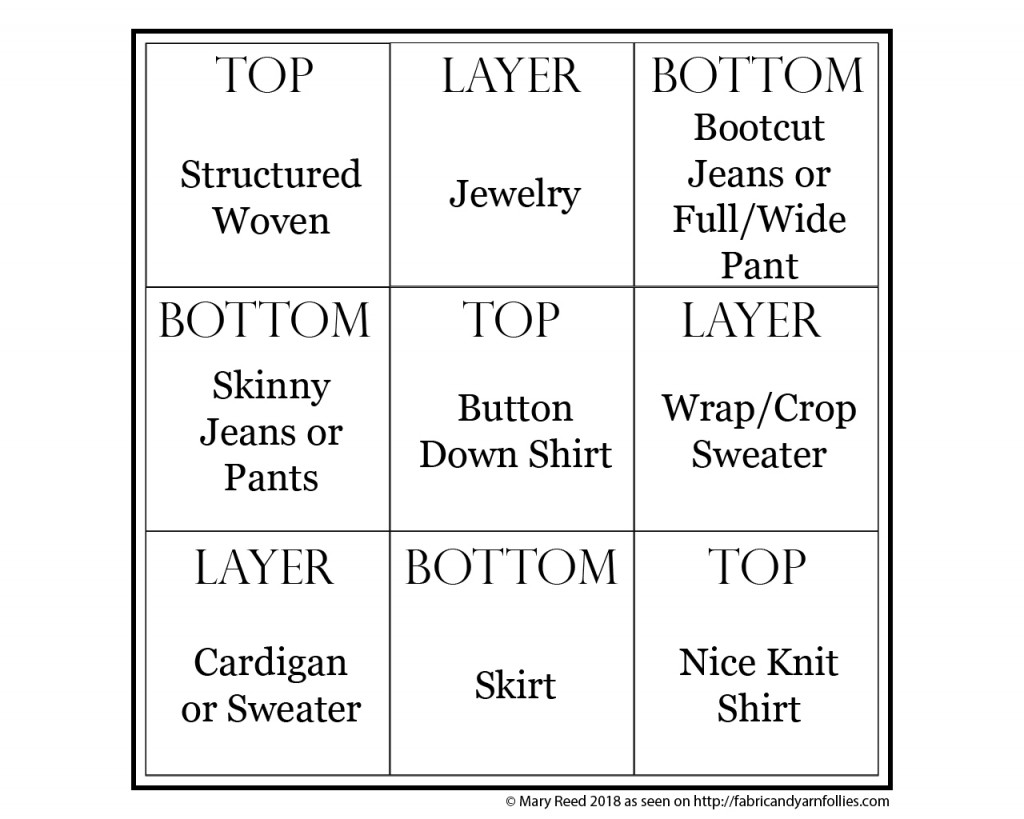 This grid gives me flexibility to include many different styles, but still gives a guideline for what I can and should be focusing on that will get worn and loved. When I'm thinking about buying a new pattern, I can decide if it fits in one of these categories. Doesn't fit? Don't buy it. It means I can start developing TNT patterns and then variations on those patterns, so I can explore new techniques without feeling afraid of wasting the effort. It means I can quickly find the way to know if I'm expanding my wardrobe or cluttering it.
In addition, I'll probably have a couple different 3D capsule wardrobe plans. In addition to this every day one, I'll make one that's slightly dressier, because on occasion I like to feel a little more put together. I'm considering adding a lounge one for night gowns/lounge clothes, etc., but that depends on how much sewing time I can find this year.
My next step is to do an inventory of what I wear everyday that already fits in to the grid and what I want to start sewing on. Next up, I'm going to start working this plan into the 12 week year framework to see if I can get moment up this.