Since I did a post about my initial ideas on Me-Made-May, I thought I'd follow up on it now. I'm glad I didn't do a pledge about it, because it went pretty much as well as I thought it would. Which is to say, not much different than every other month. I wear me-mades two to three times a week, occasionally less depending on the status of laundry.

While my number of me-mades has grown since the first year I did it, I still don't have the wardrobe for a full month.
Wardrobe planning is on my list, but not next on my list. First up is getting through some of my WIP that are floating around the sewing room. I'm going to do a post on how I'm getting organized. It makes my geeky heart happy. 😀
Until then, here's a bit of tatting that i did as a gift. It's not given yet, but I'm pretty sure that the person it goes to doesn't read my blog. *fingers crossed*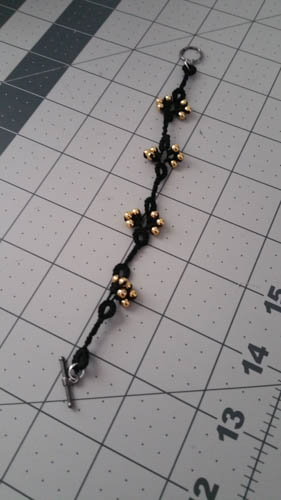 I got this from a Craftsy class with Marilee Rockley (links are affiliate links). It's a great class and this is the second things I've completed from it. The first was a necklace, bracelet, earring set. By completed, of course, I mean I finished the tatting but not the findings. I guess that still counts? Either way, I enjoy tatting when I want something easy and pretty and fun to keep my hands busy when I can't sew.

Click to check out the class!