I have a new favorite comfy sweater! This is the Seamwork Sadie made in a lightweight sweater knit from Fabric.com. It's oversized without feeling too overwhelming, and just the right amount of cuddly.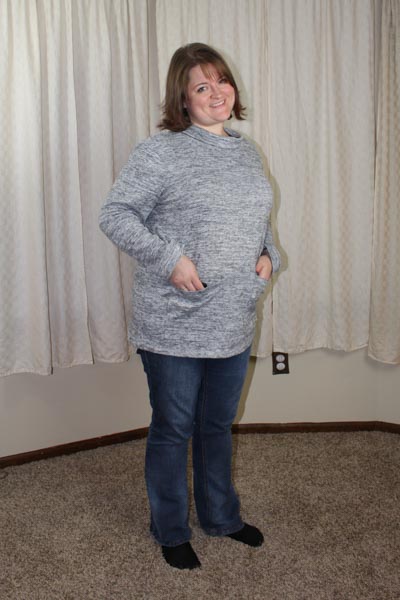 I cut a large. My only alteration was to add a 3/8" FBA along the seamline and adjust the sleeves to match. I think it's loose enough that I could have gotten away without that, but I'm glad I did it. The extra space really helped it hang nicely.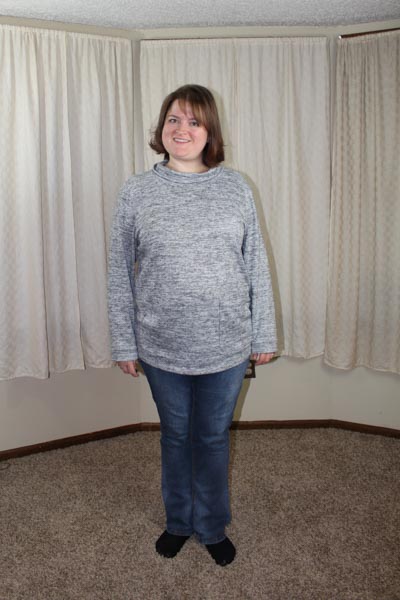 My biggest learning curve with this one was about how to sew on this soft, lightweight fabric. I've usually been able to get away with just adjusting stitch widths or lengths, etc. to make the fabric behave. This time, however, no matter what I tried, it was always terribly wavy.
I had to re-cut the front piece because I ignored my own good advice and stitched the pockets down without doing a sample first. The fabric was so soft and the thread matched to perfectly that I wasn't able to pick out stitches without putting holes in the fabric. Fortunately, I had just enough fabric to eek out a new front piece and try again.
I'm so grateful to the sewing community online, as I was able to put out a call on Instagram for help and get some tips on how to make the fabric behave. I ended up sewing it with tissue paper (tip: it goes between the fabric and the feed dogs, not the fabric and the presser foot!) and it smoothed the whole situation out. (I used this tutorial, from Me Sew Crazy.)
The difference in the wavy-ness was hard to photograph, but you can kind of see it between these Instagram posts.
All this topstitching was for attaching these deep pockets. They are wonderful size. Since I used such a lightweight knit, however, I can't put much in them. They end up just sagging!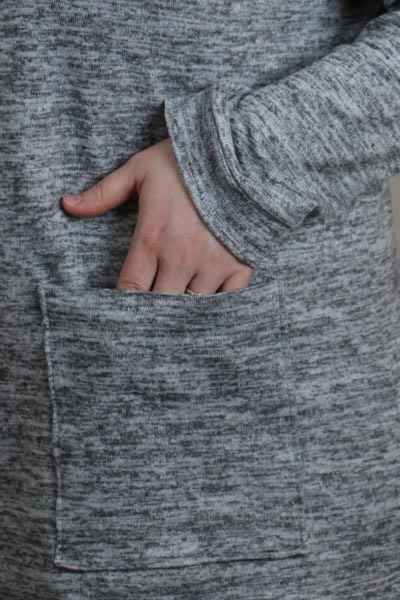 I love this top and it's perfect for cold winter days. This cowl is awesome for keeping my neck happy and toasty as well as looking styling!